Is Dhaka's crippling traffic problem endless? Picture: star
">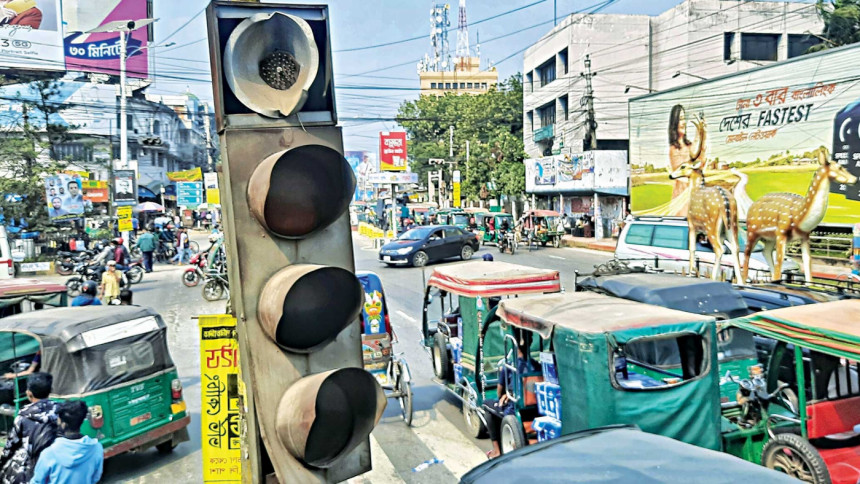 Is Dhaka's crippling traffic problem endless? Picture: star
Recently, the Mayor of Dhaka North City Corporation recommended an even-odd car rationing solution to Dhaka's ongoing traffic problem. Previously, a similar method was adopted in New Delhi. Its advantages and disadvantages, as experienced by the inhabitants of the Indian capital, are more or less known. However, when we compare public transport facilities and overall civic facilities in the two capitals, we see massive disparities. In Delhi, people can rely on public transport, but in Dhaka there are simply not enough roads, railways and public spaces, not even a functioning traffic surveillance system.
To be frank, there can be no single, universally applicable solution to the traffic problem, so allow me to give my two cents in this regard with a few recommendations that I think we can implement. Although I am only a citizen and not an expert in traffic management, I believe that these solutions and others offered by experts indicate the sense of urgency that must accompany any effort.
For all the latest news, follow the Daily Star's Google News channel.
First, I believe that every institution with more than a hundred students or employees who travel daily – such as schools, universities, companies, factories, etc. – must have a shared transport system on a common route. Students should be provided with attractive perks such as free passes and well-behaved and well-educated transport staff to encourage them to use public transport. Many students from wealthy families use private cars to and from school, as seen on the streets of Dhaka. Our children should learn the virtues of sharing for the good of the city. It is our responsibility to teach them how to use and protect public facilities and spaces.
Secondly, Rajdhani Unnayan Kartripakkha (RAJUK) has a vital role to play in mapping the road network and therefore traffic control. Since every city should have an adequate amount of public spaces, roads and recreational facilities, managers and planners, including RAJUK, should be more innovative and come up with sustainable solutions. Before approving new offices, factories, schools, shopping centers and other establishments, RAJUK must consider our existing challenges and resource constraints. All departments working with city spaces, buildings and networks should coordinate before formulating and implementing any policy in this regard.
Third, I would advocate the expansion of Dhaka's existing rail networks. Express railways should be further developed. Outside areas of Dhaka should be connected and designated as such. Rail services should be integrated with metro lines, with trains running every 2-5 minutes there and back. Dhaka city metro services and stations will need to be extended to places where people can easily board buses or other public vehicles.
Fourth, the Bangladesh Road Transport Authority (BRTA) should pay more attention to the condition of motor vehicles and the training of its personnel. It is BRTA's job to ensure that public transport workers have decent wages, adequate facilities, education and training. A separate entity within the ministry could be created to do these things. A special law should be passed that would oblige bus owners to provide certain facilities for their workers. The technical control of any vehicle circulating on our streets and the admissibility of drivers must be kept in mind.
Fifth, automation of vehicle entrance gates, payment of fees and a centralized monitoring system are paramount. Given the size of this city and the number of public buses operating there, a central monitoring system, combined with a digital payment system, will solve virtually all of the difficulties we face. These objectives can be achieved using existing technologies with the help of local professionals. Other than that, road safety law needs to be properly and evenly implemented to bring some semblance of order to our otherwise chaotic transport sector. It will also help if bus owners are held responsible for any accidents or disorders caused by their vehicles, drivers and other staff.
Finally, there should be more U-loops, underpasses, and such structures that can help large crowds of people move around without making roads more cumbersome.
Dhaka is one of the most populated cities in the world with extremely poor road coverage, so bringing discipline to its roads and reducing traffic jams would be a Herculean task. We can only meet the challenges of sustaining this huge population center by sharing and using our resources properly.
Md Asif Iqbal is a lawyer and currently works as an intern at Dr. Kamal Hossain & Associates.